If you're a Julia Roberts fan, you can vividly recall the scene of the Pretty Woman "shopping snubbing."
Roberts' character, Vivian, enters a shop on Rodeo Drive with $3,000 in cash and a few credit cards borrowed from Edward (Richard Gere). Three female associates give her the stink-eye the moment she enters, but she keeps to herself, nervously chewing on her fingernail, and begins browsing.
A young associate dressed in the store's offerings approaches Vivian and inquires as to whether Vivian needs any help, which Vivian politely brushes off. When the associate remains by her side, Vivian amends her statement, admitting that she needs "something conservative." The associate sarcastically responds "Yes," eyeing Vivian's streetwalker clothing, and follows her further into the store.
After Vivian's compliments of the store's clothing fail to draw out more courteous or helpful responses from the associate, Vivian inquires as to how much an outfit on a mannequin costs. Instead of stating a price, the associate says, "I don't think this would fit you."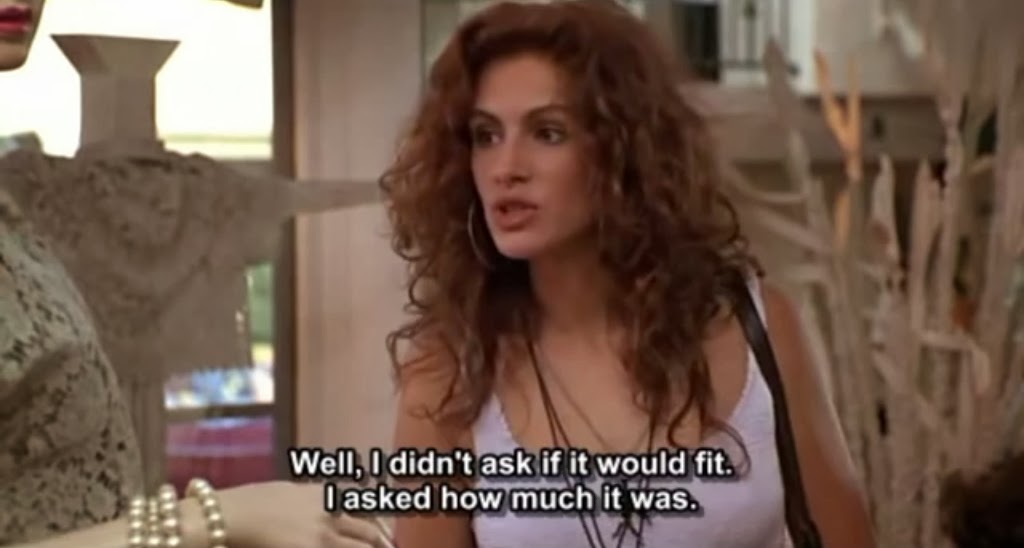 When Vivian refuses to take that answer, another sales associate joins in and the two associates proceed to gang up on Vivian, saying arrogantly, "It's very expensive" and "We don't have anything for you. You're obviously in the wrong place. Please leave."
Embarrassed and seeing no further recourse, Vivian leaves the store upset and more than a little angry. There are no snappy comebacks or repercussions for the sales associates to offer viewers any comfort…at least, not yet.
Stylistically speaking, J. F. Lawton was a visionary to include such an emotionally charged yet simplistic scene in the Pretty Woman screenplay. It represents a major launching point for Vivian's transformation from a mere dreamer to a dream seeker. But, culturally speaking, this scene represents so much more, something that happens every day in the consumer industry (not to mention every other sector of life): judgment.
Who among us has not felt ignored, insulted, or otherwise mistreated by the people who are paid specifically to treat us? Not one person can honestly proclaim that every shopping experience they've had in life has involved 100% positive relations with sales associates.
The reality of retail is that sales associates come to oversimplified conclusions about each and every potential customer the second they walk into the store. Determining each person's economic status is the name of the game and, somehow, age, race, dress, physical form, body language, and a myriad of other purely visual details come into play.
Ladies and gentleman, sales associate are simultaneously the judge, jury, and executioner of each shopper that dares to enter the shopping world. Buyer, beware, indeed!
The fact that all of this is known about the shopping world, however, does little to quell the horrible feelings that sales associates can induce when they mistreat you.
It doesn't matter where or how often it happens, it hurts and that pain resonates.
 What you need to understand about me is that I look much younger than I am.
A guy friend of mine frequently jokes that I was only six years old in high school. I still get carded for R-rated movies and a year ago I had to show ID to prove that I was old enough to be in the mall without a parent. When I turn 21 this year, I can only imagine the looks that waiters will send my way if I deign to order something a bit stronger than sweet tea.
In addition to being short and petite, I know that my face is youthful. As a result, I'm careful to dress my age, act maturely, behave professionally, walk with my head up, and strive to be a few steps ahead on the "growing up" scale—hello, college degree, thank you for being in my possession! All in all, I think I do a pretty good job of compensating for genetics.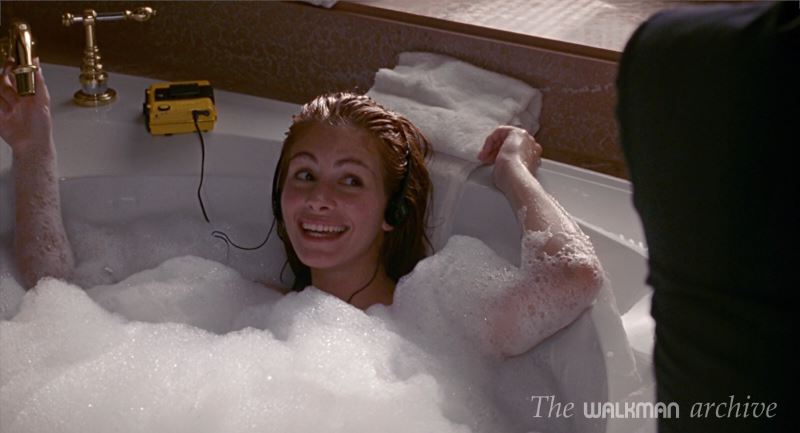 Like Vivian, I appear quite young, even child-like at times, but we can both put on a few years if we try.
Yet, despite my best efforts, when I walked into the beauty and cosmetics section of Nordstrom in Tacoma, Washington, a few days ago, I was promptly treated like a child and ignored. You see, I knew precisely what I'd come to buy—Laura Mercier crème foundation in one shade darker than white crayon and (maybe) a few bits and bobs from the same line—and I only needed an associate to get it from behind the beauty counter.
Can we be quite quick? (That was Love Actually reference for the unfamiliar.) Apparently not, and apparently there cannot even be a "we."
I approached not one, not two, but three sales associates and was met with only unpleasant looks and dismissals. Of course, that doesn't even include the five unoccupied associates who simply ignored me as I meandered past them in search of the correct counter. I was watched, but not helped.
When asked directly for service, one associate even stated that she "couldn't handle makeup from another person's counter." This quickly proved false as I witnessed three associate/customer pairs, including the associate I'd spoken with and the customer she'd approached after abruptly leaving me, moving between counters.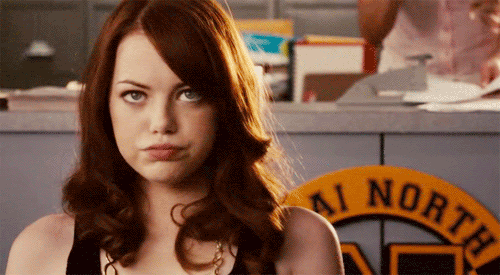 I waited patiently for the associate that worked the Laura Mercier counter to return from helping another customer—at another counter, might I add—but she never did. Upon inspection, I discovered her giggling with her fellow associates across the floor, sans-customer. I caught and held her eye, smiled, and turned pointedly back toward the counter.
Guess who still didn't get any service? Guess who felt like a fool standing there waiting? Guess who walked out the store, upset and more than a little angry, without a single purchase made?
Oh, I kept my cool. I walked out with my head up, I smiled at the young associate who didn't even smile at me, and I climbed into my parent's car filled with righteous indignation.
This is why I hate the cosmetic counter, I kept thinking, this is why I avoid shopping. This is why I just shouldn't try.
But, I had money to spend. I was courteous. I waited my turn. I was dressed well. I requested help. I was—joining a million people incensed over the same things happening in different places for only slightly different reasons, and none of us did anything wrong.
You see there is this thing called ageism and I experienced it along with, quite possibly, a bit of classism. Every day, other people experience the same thing I did, along with racism, sexism, ableism, anti-Semitism, and heterosexism. Each of us has been or will be a victim of the "isms" at some point or another. While instances can vary in degree and frequency, all instances of an "ism" are as valid as our feelings about them. You feel, you are, you have been. It's not a competition because we're all caught up in the same emotional storm.
The truth about the "isms" in the retail industry is that associates, who are often paid on commission, take advantage of perceived patterns in customers in attempts to increase their sales and, as a result, income. They call it consumer profiling, but it can be a bit more convoluted, and even nefarious, than it at first seems.
For example, a recent Harvard study published in the Journal of Consumer Research revealed that sales associates in luxury stores were more likely to assume that those individuals "willing to deviate" from social norms—such as dressing down in gym clothes while shopping—had the money to buy something.
So, if we want to be treated like human beings and helped in our endeavors, we must sacrifice our own style? It makes no sense.
Similar patterns or assumptions that are relied upon in retail include the notion that young people and people of color are more likely to be thieves with no "real" (read: large sums of) money to spend, leading them to be either ignored or followed. In the same way, the disabled and elderly are often infantilized based upon the idea that they are incapable or without means, making them either easy to oversell or not worth the time and effort. Plus-sized individuals are frequently considered difficult and unlikely to find anything that will fit, and effectively dismissed with the (only sometimes) silent message of "leave, change, and come back."
When you lump in other assumptions about gender, sexuality, religion, and political affiliation, the list goes on so long that everyone becomes a perpetual victim. That's the crux of the matter though: when one person is victimized, made to feel even the slightest bit of discomfort or embarrassment, we all lose out eventually.
It's easy to try to "win" in the moment or shortly thereafter, it can even be incredibly satisfying, but it doesn't solve everything.
In Pretty Woman, Vivian returned to the shop where she was snubbed, dressed in luxurious clothing with a collection of bags in hand. Ignoring the associate who approaches her as she comes in the door, she rounds on the associate who was disrespectful the day before. Vivian first asks, "Do you remember me?" to which the associate replies in the negative; however, after reminding the associate that she wouldn't wait on Vivian, the associate comes to realize the woman she snubbed and the woman before her are one in the same.
As the associate stares at Vivian, shocked, Vivian hefts her designer bags in the air, declaring "Big mistake. Big. Huge. I have to go shopping now." As Vivian flounces off, we see the associate look on in humiliation.
Of course, Vivian is pleased with herself—and what audience member wasn't proud of her—but she doesn't truly win against those who put her down in that store until much later on when she helps another streetwalker, her friend and former roommate, Kit, see that she can have a better life as well. People win together, not apart.
A few days ago, I wanted to demand service. I wanted to yell at a manager. I wanted to shove my true age, economic status, and resume in the associates' faces. I wanted to pull a Gordon Ramsey and teach them how to do their job properly. I wanted to know what happened to a customer being a customer no matter how much they buy or spend.
I wanted vengeance.
But, what better to do than follow the Pretty Woman example and deny the judgmental, unhelpful employees an addition to their income AND tell others about the horrible experience? No snarky quip can hurt as much as a potential loss in customers and earnings.
Maybe I wasn't wearing thigh high boots. Maybe I wasn't showing my midriff. Maybe I wasn't smacking gum. But, even if I had been, I would have deserved better service than I received. The fact that I look young—just like being a lower or middle class, a person of color, plus-sized, disabled, or so on and so forth—should not mean disrespect and being ignored.
We all deserve better. We deserve the fairy tale of retail, or at least some fulfillment of the basic promises businesses and their employees make.
It is important to remember that, as Edward says to Vivian in the movie, "Stores are never nice to people. They're nice to credit cards." And, that's not good or right, but, it means that in the end sales associates are dependent upon you and I, my fine friends. We are the ones that can change them because we are their livelihood.
Whenever someone is mistreated due to the realities of retail, the associates and the companies they work for have made a "Big mistake. Big. Huge." They need us, but we don't need them, and that's why we win out in the end.
(Disclaimer: Obviously, all sales associates at all stores are not terrible. Some of you are quite lovely and helpful.)